31 juillet 2017
1
31
/

07
/

juillet
/

2017
11:14
Doug Ashdown est australien. Préambule factuel, moins pour esquisser une moue condescendante qu'afin d'inciter à savourer un certain piquant dans l'affaire qui nous concerne.
Au milieu des années 60, il représente une certaine orthodoxie folk, avec le délai d'une poignée de mois de rigueur, le temps que les modes traversent les océans. Il emprunte alors le costume de Fred Neil, enfilant ces chansons trop portées avec l'élégance rafistolée du noceur en retard.
1970 voit notre homme signer le premier double album de l'histoire de la pop océanienne, « The Age Of Mouse », sorti sur son label Sweet Peach, asile d'autres talentueux baladins à l'haleine lourde (Fraternity, Extradition, Phil Sawyer). « The Age Of Mouse » est une singulière expérience, à la fois épaisse et inconséquente, qui veut dans le même temps s'offrir le cocktail variété et s'abandonner aux libations psychédéliques, comme en témoignent ces chansons tiraillées entre turbulentes guitares fuzz et le baryton imperturbable du maître des lieux.
Après ce quasi chef d'œuvre, Doug Ashdown se rêve en tunesmith, et accompagné d'un incertain Jim Stewart (cofondateur de Sweet Peach), exile ses deux mains et ses doubles croches à Nashville, où durant quatre ans ils tentent en vain de placer un hit dans la capitale de la chanson millimétrée.
Puis c'est le retour à la terre natale. Le duo de compositeurs décide de persévérer et bien lui en prend car « Leave Love Enough Alone », enregistrée à Sydney en 1974 et extraite de l'album du même nom, consacre son effort bien qu'à retardement : peu de remous à la sortie de l'album mais ce sleeper, débarrassé de son titre abscons et rebaptisé « Winter In America », est un hit en 1976 en Australie et aux Pays-Bas.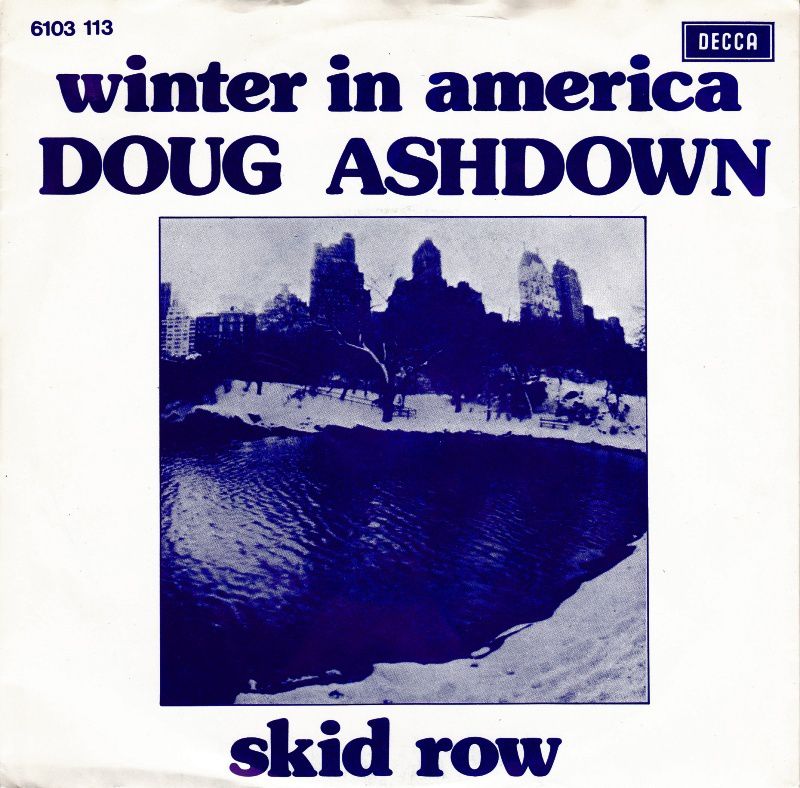 Avec cette chanson, Doug Ashdown s'immerge sans réserve dans le bain moussant 70's. C'est 1974, la folk song a depuis longtemps quitté les cafés et s'apprête même à revendre sa vieille grange aménagée. Dans son désir de luxe, elle s'est installé un piano à queue dans le penthouse d'une tour de cristal. Les rugosités se sont atténuées, les basses se font ronronnantes et l'amour a laissé place à la séduction : c'est le règne sans partage de l'adult orientated rock.
« Winter In America » émerge de ce lac à peine ridé. Et pourtant, malgré l'aménité un brin austère du ton, malgré certaines paroles imbitables ou décoratives, malgré le sourire que provoquent les mousseuses bacchantes de l'interprète, la chanson bouleverse. Pour les accords du refrain, fantômes de l'épopée hippie, d'une humeur moins conquérante qu'infiniment rêveuse. Pour cette phrase, I wake into the sadness of the rain, making love to strangers, qui s'échappe comme une volute de hautbois. Pour la femme chantée, qui n'est plus une vagabonde, une chimère, une pythie, mais une femme, qui rejoint son bureau, les claquements des talons s'évanouissant le long de couloirs à peine dessillés. Pour cette coda où l'on distingue, comme dans les plus beaux morceaux de Simon & Garfunkel, le murmure croissant d'une foule blanchie par l'aube.