21 février 2005
1
21
/

02
/

février
/

2005
23:00
Grâce à la diligence de mes porteurs et à l'ingéniosité de mon maître d'hôtel, l'efficace Legendre, il ne me fallut que quelques jours pour prendre possession d'un charmant logement sis dans une rue commerçante (vous savez comme j'aime à me bercer de la musique des transactions et de la négoce) suffisamment éloignée des lieux où la société se rassemble pour me donner le loisir de mettre les récents événements en perspective. Ces derniers me jetaient dans un trouble que peut-être votre présence aurait apaisé. Je me voyais en quête d'une essence imprescriptible que ceux qui l'avaient élevée à l'état de force créatrice appelaient l'essence Psycho-Batave. Il était exclu que j'interrompe mon voyage d'agrément si je n'avais de plus solides éléments à vous soumettre.
En considérant que les tombeaux et les revenants avaient part liée avec l'affaire qui m'occupait, je résolus d'arpenter les allées fleuries d'un petit cimetière calviniste, dont j'avais découvert l'existence depuis la fenêtre de mon appartement. Le sort dût-il m'assister, il n'aurait pas décidé plus idéalement l'emplacement du cimetière. Ainsi je m'engageai parmi ces pierres où je lisais, plein d'admiration et d'ardeur, les noms immortels des meilleures maisons de Neuchâtel. Bientôt étourdi par ma lecture, qui faisait défiler sous mes yeux l'Histoire d'un peuple superbe, je me reposai sur un banc à l'ombre d'un tilleul. Sans que je l'eusse deviné, un homme, posté derrière l'arbre, m'observait depuis le début de ma promenade. Il tenait un minuscule arrosoir aux armes de la ville. Sa figure honnête me prouvait qu'il n'essaierait pas de me saluer à moins que je ne l'y autorise, et comme je m'attendais à ce que l'homme, qui était le gardien de l'endroit, m'apportât quelque révélation décisive, je l'invitai à prendre place sur le banc. Cette franchise dans nos rapports ne doit pas vous étonner : les signes que le Destin multipliait sur mon passage m'encourageaient à provoquer moi-même les incidents qui pouvaient m'éclairer. Une fois assis, le gardien dirigea mon attention sur les parterres que sa main experte avait composés. Cela pouvait signifier qu'il était un homme sensible et ordonné ou bien qu'il était un artiste dont je devais redouter la puissance des effets. Vous en jugerez en lisant la conversation qui suit :
« Je sais, Monsieur, que vous avez de l'intérêt pour le récit des choses passées. C'est un ami de Milan qui me l'a appris, et il m'a également vanté vos dons d'auditeur, de sorte que je puis parler aussi longtemps que je le désire sans craindre de vous lasser et en ayant la certitude que vous donnerez tout leur sens aux mots que j'emploierai. Cet ami m'a assuré que l'augmentation de vos connaissances constituait votre seul souci, que vous étiez homme à prêter une oreille bienveillante aux contes parce que vous excelliez à en extraire la vérité profonde, bref que je ne saurais mieux faire que de vous rencontrer et de déposer en vous la mémoire de faits exceptionnels. Maintenant, me croirez-vous si je vous dis m'appeler Eldridge Holmes ? » Je tentai alors de réfréner mon enthousiasme et m'empressai de l'interroger sur l'essence Psycho-Batave, de peur que son récit ne me fasse oublier ce pourquoi j'étais venu à Neuchâtel . Holmes pinça secrètement les lèvres et me considéra avec désappointement. « Est-ce ainsi que nous devons procéder, Poire ? Laissez-moi plutôt vous raconter mon histoire. Ensuite, j'apporterai une réponse qui, je l'espère, vous satisfera. Bien… Avant de commencer, j'aimerais m'assurer d'un détail, concernant l'attribution des mérites. La relative modestie de mon œuvre a toujours eu l'heur de vous contenter, par ses qualités propres mais aussi parce qu'elle est comprise, en même temps que d'autres aux charmes certains, dans l'œuvre séminale de mon ami Allen Toussaint. Voulez-vous peser pour moi les contributions de chacun ? Voulez-vous risquer l'attribution des mérites ? Comprenez-vous que tant que vous ne l'aurez pas fait, je n'ajouterai pas un mot ? ».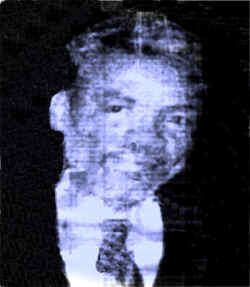 Avec contenance, je rétorquai : « M. Holmes, il m'est impossible d'attribuer les mérites de chacun du point de vue de la fabrication. Cependant, du point de vue des résultats, je peux affirmer que le génie de chacun, dans ce qu'il a de singulier, a été investi sans mesure. Aussi, chaque chanson signée E. Holmes peut se targuer de la double participation de l'esprit divin, sous les formes convergentes du Producteur et du Compositeur. » Holmes me félicita : « C'est tout à fait exact ! A dessein vous avez employé le terme « Compositeur » et naturellement, j'ai composé « Where Is Love », « Until The End », « Without A Word ». Et à quelques accords et arrangements près, je pourrais revendiquer la composition de mes deux autres chefs-d'œuvres « Wait For Me » et « Beverly ». La composition, Poire, voilà ce qui me distinguait parmi les soul singers de mon pays ! Allen avait sous son aile des interprètes fabuleux comme John Williams, Wallace Johnson, Bobby Lu Cure, beaucoup d'autres… Mais ils ne composaient pas. En revanche, c'est parce qu'ils n'étaient pas des compositeurs qu'Allen sut les transformer en pures émanations de l'énergie Psycho-Batave, ou si ce langage vous effraie, en maîtres de ce que la psychologie moderne a baptisé le fluide Sly Stone. Alors même que ce Californien obscène n'avait encore rien enregistré. Croyez-moi, nos descriptions cliniques du fluide correspondent parfaitement à ce qu'Allen Toussaint a élaboré pendant toutes ces années. Et il y eut deux réussites mémorables : Lee Dorsey, qui donne aujourd'hui son nom à un pôle, et Betty Harris. L'œuvre entière de Lee et de Betty, en la moindre de ses parties, est irriguée par le fluide et lorsque celui-ci circule harmonieusement, se produit l'extase du Psycho-Batave. Lee Dorsey et Betty Harris relèvent ainsi du Psycho-Batave le plus intense et le plus pur, et ce, j'insiste, pour chaque chanson qu'ils ont interprétée. D'où ce frisson d'éternité que leurs duets ont suscité chez chaque auditeur, qui sentait obscurément qu'il s'agissait pour Allen de vérifier l'hypothétique addition des énergies Psycho-Batave. Plus tard, vers 1968, Allen systématisa ses intuitions en utilisant The Meters, premier orchestre intrinsèquement Psycho-Batave, qui rassemblait des musiciens munificents, dans le rythme et dans la mélodie, et qui, de plus, se révélèrent de prodigieux choristes, des choristes qui non seulement harmonisaient mais surtout intégraient leurs voix aux rythmes, qu'ils rendaient sans pareil. Les combinaisons Meters/Lee Dorsey ou Meters/Betty Harris sont proprement indépassables. D'autres bénéficièrent, toujours sous la houlette d'Allen, de la propulsion Meters et connurent ainsi l'ivresse Psycho-Batave : ce fut le cas de mon ami Ernie K. Doe. Mais Eldridge Holmes, qui savait composer, lui ne fut jamais épaulé par The Meters. Certes, Allen n'avait pas attendu The Meters pour libérer l'énergie Psycho-Batave ; ces derniers, en somme, pouvaient faire naître l'énergie qui manquait constitutivement à une chanson, ou bien, lorsque l'énergie était déjà là, ne faisaient que l'accélérer. De sorte que je n'avais nul besoin de The Meters.
Un soir, Allen et moi dînâmes chez sa mère, femme admirable, spirituelle et simple dans ses manières. Le repas avait été égayé par les nombreuses anecdotes dont Mme Toussaint faisait son délice et je puis témoigner qu'aucune d'entre elles ne présentait quelqu'aspect fâcheux pour les bons citoyens de notre ville. Une fois le repas terminé, Allen m'entraîna dans le fumoir où il avait fait installer un piano à queue. Là il me joua quelques mesures qu'il prévoyait d'inclure au beau milieu de notre chanson « Where Is Love » (écoutez ce titre dans le module "musique" en haut de la page). Il s'agissait d'une suite d'accords à l'européenne, servant à introduire la partie finale, car en l'espace de deux minutes, notre chanson se diaprait d'au moins trois couleurs dont la succession créait le sentiment du drame. Après m'avoir montré les accords, Allen sourit : « Eldridge, je t'offre là le style Psycho-Batave. Tu as sans doute longtemps espéré que je te l'offre, mais dans ton cas, j'ignore s'il ne vaut pas mieux repousser l'offre. Tu es différent, Eldridge, différent de Lee et des autres, l'étoffe dont tu es fait est différente et je doute de te servir comme tu devrais l'être. As-tu entendu parler de Van McCoy ? Eh bien, cet homme pourrait te servir bien mieux que je ne l'ai fait. » Allen refusa d'en dire davantage et je sus qu'il me donnait congé. Et parce que la honte, le dépit et la colère s'étaient durablement inscrits en moi, je cessai de composer. La semaine suivante, je trouvai un engagement dans un petit cimetière calviniste de Neuchâtel, celui dans lequel nous nous tenons aujourd'hui. » Est-ce tout ? lui demandai-je. « Etre répudié par le père qu'on s'est choisi n'est pas une moindre déception, Monsieur Poire. » Combien juste m'apparut alors sa retraite désespérée lorsque je songeai au père que je m'étais choisi, vous Jean Pop 2, et que je l'imaginai me chassant sous de terribles imprécations ! Holmes, ajoutai-je, vous m'aviez promis une réponse. « Je vous l'ai donnée, mais l'avez-vous au moins entendue ? Au revoir, Monsieur Poire ».
Abandonné à moi-même, je fus emporté très haut par une vision que je ne maîtrisai pas et dans laquelle mon propre corps disparut sous l'éboulement continu des sensations. Une forme gigantesque qui ne se laisse saisir ni par l'œil ni par l'oreille s'était substituée à ma conscience, ou plutôt à mon champ de perceptions. Il me semblait être terrassé par la force inouïe du Psycho-Batave.
Amicalement, Jean-Pierre Paul-Poire.
Nota Bene : un homme m'a écrit, il s'appelle R. Webb et désire me parler. Le connaissez-vous ? Me conseillez-vous de le rencontrer ?