27 décembre 2005
2
27
/

12
/

décembre
/

2005
22:29
New Jersey Spirit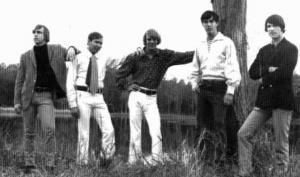 The Maundy quintet, l'esprit du NJ jusqu'en Floride
"L'esprit du New Jersey, c'est le complexe de New-York, mon vieux, c'est la province qui lorgne du côté de la grande ville, c'est les rêves de Brilll Building en rase campagne" ainsi fut brillament énoncée la synthèse Sweignienne par notre ami, invité à honorer les sièges usés des studios de ses honorables fesses.
Dr John "The point"
Little willie and The Adolescents "Looking for love"
The Scoundrels "Up there"
King david and The Slaves "I've been told"
The Guilloteens "I don't believe"
Benny Spellman "If you love her"
Fox and The Huntah's "Funny kinda day"
Pete Morticelli "Lost"
Bernard Smith "Never gonna let you go"
The Maudy Quintet "2 is better than 3"
The Wisdoms "Lost in dreams"
The Eldorado's "All i want to do"
The West Five "Till I kissed ya"
John Rosasco Quartet "Come running to me"
The Canterbury Music Festival "Why does everybody run to home"
Pete Klint Quintet "Very last day"
The Vagrants "I can't make a friend"
The Dynamics "Used to be"
Jynx "Come on up"
The Lewallen brothers "It must be love"
The Heartbeats "Cryin' inside"
Hot Chocolate "What should I do"
Martha Starr "Love is the only solution"
Vous pouvez écouter l'émission en direct tous les mercredis de 20h à 21h30 sur le site de radio campus Orléans (voir les liens). Vous avez grand intérêt à le faire. Le site est actuellement en maintenance mais vous pourrez bientôt l'écouter en différé.