28 février 2005
1
28
/

02
/

février
/

2005
23:00
Choeurs et harmonies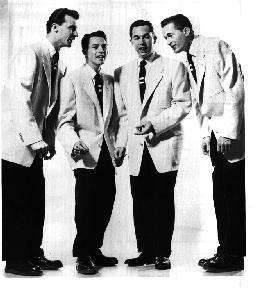 Jeanpop2, en homme de goût, aime les harmonies délicatement ciselées, et l'homme d'action en lui se galvanise de choeurs virilement rythmiques. Ainsi furent débattues, ce mercredi soir, ces notions à la fois distinctes et parentes. MM. Poire et Landive furent bien surpris de voir arriver en pleine émission M. Lesec qui, rappelons-le, en fut évincé à cause de sa fréquentation intime de M. Couderc et du jazz. Gageons que Jeanpop2, dans sa sublime munificence, laissera une seconde chance à ce naufragé...
The Majority "One third"
The Easybeats "Lisa"
Unrelated Segments "Where you gonna go"
The Byrds "Have you seen her face"
The Other Four "Once and for all girl"
The Burgundy Runn "Stop!"
The Impressions "Isle of the sirens"
Ernie K. Doe "Here come the girls"
The Clovers "Good lovin'"
Bobby Fuller "Don't ever let me know"
The Dovers "She's not just anybody"
Summer's Children "Milk and honey"
Of Montreal "Good morning M. Edminton"
The Action "Harlem shuffle"
The Merlynn Tree "Look in your mirror"
The Temptations "I heard it through the grapevine"
Connie Austin "She made a mistake"
Buddy Holly "Rave on"
The Chambers Brothers "I can't stand it"
Lee Dorsey "People I wish you could see"
The Fabulous Denos "Once I had a love"
The Ascots "Summer days"
Olivia Tremor Control "Spring succeeds"
The Beach Boys "Anna Lee the healer"
Vous pouvez écouter l'émission en direct tous les mercredis de 20h à 21h30 sur le site de radio campus Orléans (voir les liens). Vous avez grand intérêt à le faire.