28 mars 2005
1
28
/

03
/

mars
/

2005
22:00
Je comptais parmi mes amis un vieux loup de belle prestance, l'officier Samuel Browne, qui, pendant des années, me prenait régulièrement à partie : « Mec, tu devrais écrire sur Sky, expliquer aux kids qu'il a été à l'origine du punk-rock, qui est un état d'esprit ». J'avais beau lui rétorquer que mes recherches étaient d'une nature différente, que The Moguls et The Benders avaient mes faveurs, Browne revenait à la charge, sans rien varier de sa requête initiale : « Mec, tu devrais… ». Mais aujourd'hui, par égard pour l'officier Browne, qu'une opération de police a blessé mortellement la veille de son anniversaire, je livre ici quelques considérations neuves sur The Seeds, en espérant qu'elles ne me séparent pas de l'objet réel de mes investigations et en priant pour que Browne, où qu'il soit, puisse entendre et se réjouir de cette évocation.
Rien ne me porte à chérir un groupe tel que The Seeds. Comme leurs voisins texans, The 13th Floor Elevators, The Seeds est le fruit d'une conspiration musicologique que le passage du temps a fortifiée. Les vieux loups, qui ont fait l'histoire et auxquels manquera toujours un brin de jugeotte pour revisiter celle-ci, ont en effet tiré grand bénéfice du style de The Seeds, en étendant la singulière incompétence et idiotie musicale du groupe à l'ensemble de l'esthétique garage. Ainsi ceux qui n'entendent rien au rock garage, les pédés progressifs, qui cachent en vérité les idolâtres les plus acharnés du journalisme et de l'histoire officielle, vous citent sans broncher The Seeds comme représentants avérés d'un genre que de toute manière ils ne comprennent pas et dont ils estiment être suffisamment au fait pour affirmer que les groupes garage sont ceux qui reprennent « Louie Louie ». Nos modernes aristotéliciens manquent de finesse. La musique de The Seeds ne sert en rien de mètre-étalon au rock garage, et l'on pourrait aisément, à l'écoute de quelques titres, ranger Sky Saxon et ses comparses du côté des rébarbatifs The Shadows Of Knight. Hélas, The Seeds ont fait oublier les véritables maîtres du garage angeleno, je veux bien sûr parler de The Starfires et de The Hysterics. Que Samuel Browne me pardonne.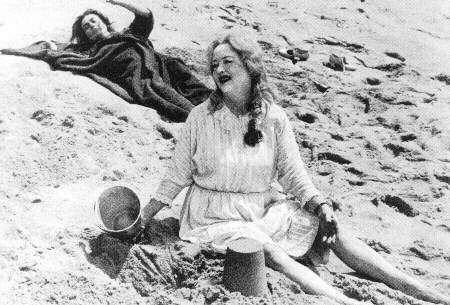 "Don't do harm to Michael Jackson" Bette Davis
Cependant…Quelque chose, qui n'est pas la grâce mais plutôt le Tragique, intervient dans l'œuvre de The Seeds, et ce, lorsque le groupe est encore plus débilité que de coutume, pendant la funeste année 1968. The Seeds publient alors Future, qui achève la déréliction psychédélique de leur musique et laisse loin derrière la raucité inquiétante de « Nobody Spoil My Fun ». Dans leur mort, The Seeds trouvent néanmoins le courage de composer une chanson bouleversante qui les fait soudain accéder à la dimension du Tragique, jamais très éloignée de l'idiotie si l'on y réfléchit. « Painted Doll » vaut à elle seule que l'on reconsidère les poncifs vieux loup que l'on colporte au sujet de The Seeds. Cette ballade jouée pauvrement, ponctuée par les phrases simples et obsessives de l'orgue, enjolivée par un chœur timide et amical, reflète la beauté particulière des cloîtres italiens, elle me fait songer combien Sky Saxon est un frère heureux de l'ordre de St François d'Assise, dont le chevrotement consacre à la fois la bonté animale et l'enfance perpétuelle. L'avez-vous vu interprétant « Painted Doll » pour la télévision américaine ? La pantomime de Sky Saxon, mi-jack-in-the-box, mi-floraison, fait plus que confirmer le charme franciscain de la chanson, elle l'augmente d'un autre imaginaire, plus spécifiquement hollywoodien, celui que donnait à voir le film gothique sudiste « Whatever Happened To Baby Jane ? », où la poupée est le vecteur de l'horreur et de la séquestration mentale. Alors The Seeds réussissent à fondre dans une matière unique deux époques, deux lieux, deux traitements, celui, doux et humble du disciple de St François, celui, violent et triste de Bette Davis, d'un même événement tragique, l'homme qui veut rester un enfant.
Samuel Browne était un homme, nul ne dira le contraire. Mais je veux qu'il sache que son mentor, lui, ne l'était pas, ou bien, à son corps défendant. Quant à savoir si The Seeds relèvent de la catégorie psycho-batave, nous les abandonnons à vrai dire bien volontiers à l'adoration des vieux loups. Bien à toi, Samuel.