9 janvier 2007
2
09
/

01
/

janvier
/

2007
12:47
Amitié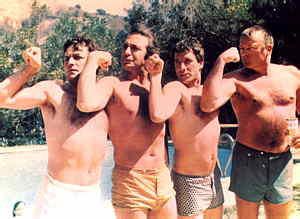 Pour cette émission consacrée à l'amitié, Jeanpop2 et M. Poire connurent un grand moment de solitude, qui fut contrebalancé par la visite chaleureuse de notre droit collègue King Of The Lose. Merci.
Phrase de la semaine : "c'est très beau la naissance d'une toge" (M. Poire)
The Beach Boys "Friends"
The Primitives "Your friend"
Pamela Blue "My friend Bobby"
Nightriders "With friends like you"
Rocky & his Friends "You weren't using your head"
Brothers and Sisters "And I know"
Soul Brothers Six "I'll be loving you"
The Brilliant Corners "Three lonely guys"
The Kelly Brothers "I'm so bad today"
The Zombies "Friends of mine"
The Ballroom "Opus to a friend"
Dave & The Customs "He was a friend of mine"
The Others "My friend the wizard"
Private Property Of Digil "To my friends"
Teddy & The Pandas "Childhood friends"
The Friends "Empty handed"
The New Breed "Friends and lovers forever"
The Vagrants "I can't make a friend"
The Brothers "Today is today"
Roscoe & Friends "Barnyard soul"
Marvin Gaye "Abraham, Martin & John"
Love "Your friend and mine- Neil's song"
The Puppets "Three guys looking for love"