19 janvier 2005
3
19
/

01
/

janvier
/

2005
23:00
Dans la petite ville de Donnafugata, les rues ensommeillées abritent certain trésor, distrait de l'histoire et de la terre, propre à ravir l'étranger que le tourisme ne séduit plus. Entre deux façades zébrées par la vigne vierge, la salle de cinéma « Bullshito » murmure son existence, douce comme celle d'Endymion, l'enfant Dieu. La projection du Cimetière de la Morale, le chef-d'œuvre de Kenji Fukasaku, me convainc d'entrer là où personne ne semble être entré depuis des décennies. Le film commence sans être précédé de réclames ni de hits de variété italienne. Pas même le maître de cérémonie qu'une telle oeuvre exige. Alors la traversée des neuf cercles de l'Enfer est entamée. Notre héros, Ishikawa, sombre méthodiquement dans l'authentique misère de l'homme, je veux parler d'une misère non-chrétienne, que nulle compensation spirituelle ne soulage, qui n'est pas enclose dans quelque frauduleuse dialectique, et dont la fin, c'est-à-dire la mort, est absurdement différée.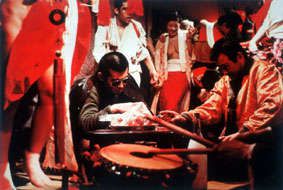 C'est en quittant la salle que je remarque un spectateur que l'obscurité m'avait auparavant masqué. Son souffle-même, je ne l'avais pas senti. Le spectateur se signale par la beauté d'un geste singulier : en levant la paume de sa main droite, l'homme crispe avec lenteur ses premières phalanges. D'une voix blanche, celui-ci me demande d'approcher. Il est le directeur de la salle et me félicite d'être entré, il espère que la projection m'a plu et me suggère que si le film m'a correctement imprégné, je ne mourrai pas idiot. Il ajoute que j'ai désormais l'obligation métaphysique de mépriser les surgeons filmiques du temps présent. « Naturellement, vous ne pourrez plus adresser la parole à tout le monde. Il en va ainsi pour chaque film que je projette. Un film par an, c'est une fréquence raisonnable pour qui tient compte du pouvoir de distillation psycho-batave (concept-clef de notre directeur) du cinématographe. L'an passé, j'avais choisi L'Innocent de Luchino Visconti. Je n'ai eu qu'un seul visiteur du nom de Sred Sweign, peut-être le connaissez-vous ? ». Je regarde la coupe autoritaire de son nez et, répondant à quelque sollicitation divine, lui dis : « Oh Lorna, what's wrong with you ? »
Les traits de son visage se figent. Et pendant que je prends conscience de ma hardiesse, la tristesse des seigneurs se mire dans son œil léonin. « Vous avez deviné… Oui, le martèlement de « Lorna », sa folie grimpante et sans justification, je le perçois encore dans l'histoire d'Ishikawa, dans le crime des héros de Visconti, et dans la vigne vierge de Toscane. Oui, je suis Adrian Lloyd. Le rock'n roll n'a pas survécu à l'année 1966, et j'ai dû changer de matériau. Ma vision du martèlement a été trahie par la nouvelle génération de musiciens. Ces sous-hommes ont cru pouvoir délaisser l'instrument totémique érigé par Bo Diddley et le remplacer par des machines électroniques volées à la NASA avec l'appui des Russes. Le battement sourd et rageur de « Lorna » montrait la voie mais tout le monde s'en est détourné, les drogues psychédéliques ont abruti mes amis, la prétention et le labeur se sont installés et jamais plus on n'entendit parler de vitesse moléculaire, de flux malin et inexorable, qui étaient les maître-mots de notre scène. J'ai chanté « Lorna » au moment où The Benders chantaient « Can't Tame Me » et The Moguls, « Another Day » : il était alors possible de conjuguer nos talents pour réformer les mœurs musicaux, balayer le jazz qui commençait à porter la toge, en finir avec le folk qui louait l'ivrognerie des pauvres et la sous-industrialisation des campagnes.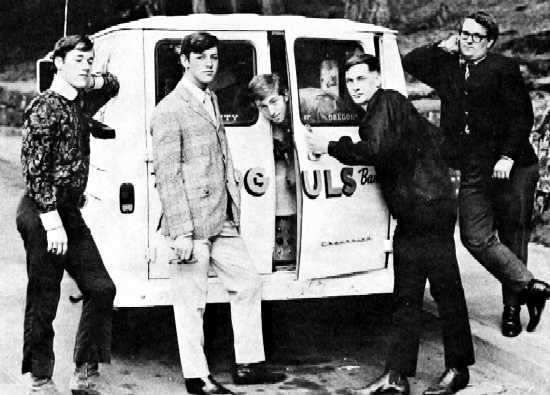 The Moguls
Nous avions négligé une chose : faute d'avoir fait la connaissance des nababs du lounge-rock new-yorkais, de sympathiser avec The Canterbury Music Festival, The Blades Of Grass ou The Tokens dont nous célébrions les productions, nous ne pûmes repousser la bave psychédélique en utilisant les superbes studios d'enregistrement de New York. Là était notre erreur : ne pas avoir su assez tôt que ces gens que nous admirions pouvaient être nos alliés. Savoir déceler ses alliés, c'est là un art magnifique, le plus grand de tous les arts, et un groupe aussi sublime que The Mystery Trend, échoué à San Francisco (ce n'était plus la ville de Vertigo), mourut lui aussi de ne pas avoir su trouver ses alliés. Les miens me sont apparus à un âge avancé, et c'est eux que j'invoque dans cette petite salle de Donnafugata –ils sont tous cinéastes, parce que l'orgueil et une puissante désillusion m'empêchent de les reconnaître dans le rock'n roll. Vous pouvez m'en blâmer, mais mon histoire personnelle présente une série d'événements dont la gravité ferait pâlir le plus stoïque d'entre les hommes. »
J'ai pensé, Jean Pop II, que cette rencontre devait vous être rapportée. Je n'ai pu décider Adrian Lloyd à vous écrire. Amicalement, Jean-Pierre Paul-Poire.